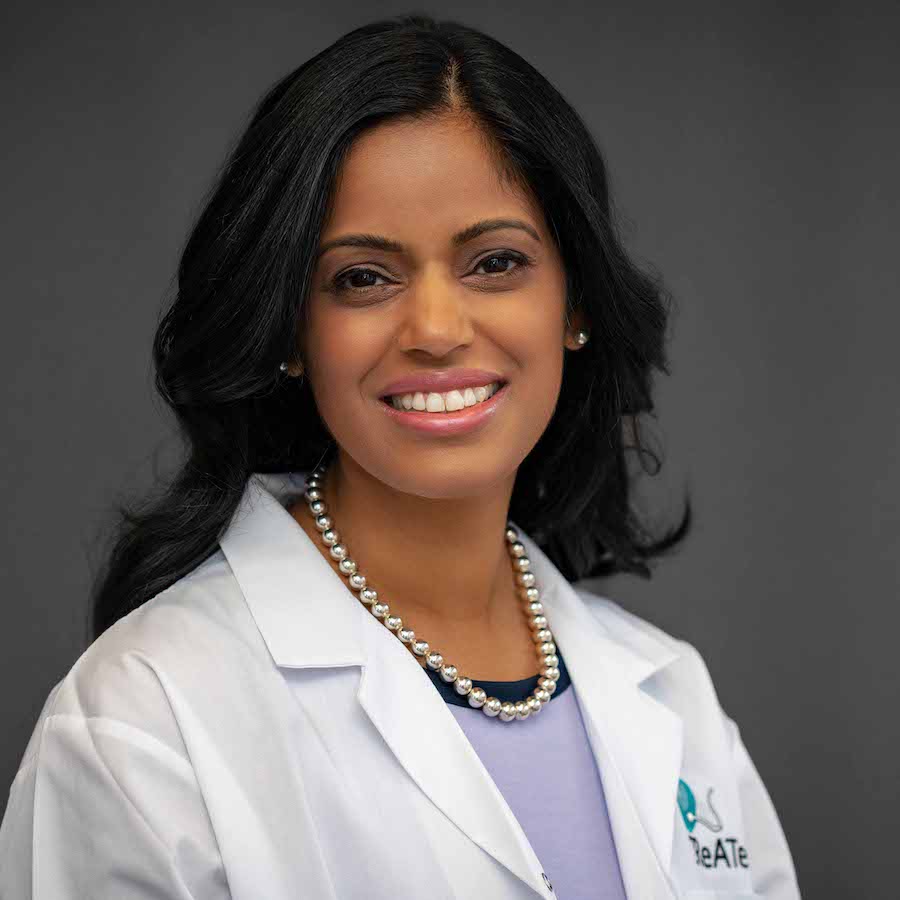 Dr. Prati A. Sharma
MD, FACOG (OB/GYN and REI)
Starting a family is possible for everyone; we are so lucky to be in an age where advances in our field have made this possible.

– Dr. Sharma
Dr. Prati A. Sharma is an American Board Certified Reproductive Endocrinologist who has been in clinical practice for over 10 years. She has an excellent, consistent record of focused practice in Reproductive Endocrinology and Infertility (REI), excelling in Infertility Management, treatment of Reproductive Endocrine disorders and utilizing Assisted Reproductive techniques to help her patients.
Education
Dr. Sharma received her Obstetrics and Gynecology and REI training in the United States from two centers of excellence in New York City, Cornell and Columbia University Medical Centers. She combines her love for research in Reproductive Endocrinology and Infertility with "patient-centered" clinical practice, to provide the utmost care for patients. Dr. Sharma is a graduate of the Seven-Year Accelerated BS/MD Medical Program in New Jersey(University of Medicine and Dentistry of New Jersey-UMDNJ), after which she pursued her Specialty Residency training in Obstetrics and Gynecology at Cornell University Medical Center. She became American Board Certified in Obstetrics and Gynecology (OB/GYN) in 2007. Dr. Sharma then pursued further sub-specialty training in Reproductive Endocrinology andInfertility at one of North America's largest and well-known IVF centers: The Center for Women's Reproductive Care at Columbia University Medical Center. There, she completed a three-year Fellowship in Reproductive Endocrinology and Infertility (REI) and became American Board Certified in REI in 2011. During her training, Dr. Sharma received several commendations and awards for her teaching abilities from both junior residents and faculty, including the Chief Resident Teaching Award and AAGL Laparoscopy Award for Excellence in Surgery from Cornell University.
Research
During her residency and fellowship training as well as her time at Create Fertility Centre, Dr. Sharma has given many oral and poster presentations on her research and won multiple awards at major academic meetings all over the United States. These include the General Program Award Winner for her Prize paper on Ovarian Hyperstimulation Syndrome (OHSS) at the American Society for Reproductive Medicine meeting (2006), the Aztra Zeneca Diabetes and Metabolism Award (2006) for her research in Obesity-related conditions and the Prize paper at the Pacific Coast Reproductive Society meeting (2008). She has published several peer-reviewed papers in the field of Reproductive Endocrinology.
She continues to pursue Clinical Research at Create and has given a number of recent oral and poster presentations at national and international meetings.

She has a faculty position (Assistant Professor) in the Department of Obstetrics and Gynecology at the University of Toronto and is an active Faculty member at Sunnybrook Health Science Centre and Women's College Hospital.
Career
Dr. Sharma currently practices Reproductive Endocrinology and Infertility at CReATe. She is an active member of the College of Physicians and Surgeons of Ontario, and the Royal College of Physicians and Surgeons.She is also a member of the American College of Obstetrics and Gynecology and the American Society of Reproductive Medicine.
In addition to providing superb and personalized patient care, Dr. Sharma has a passion for teaching and research. She is instrumental in teaching medical students, residents and fellows who come to train from programs all over the US, Canada and abroad in the field of REI. She is also Founder of The Conception Diaries, a fertility blog dedicated to educating young women and men about their reproductive health.
Dr. Sharma continues to pursue Research projects involving her special research interests: Ovarian Hyperstimulation, the Assessment of Ovarian Reserve and IVF, Endometriosis, and Polycystic Ovary Syndrome.

Dr. Sharma welcomes new patients with Polycystic Ovary Syndrome, Endometriosis, Reproductive Endocrinology, Fertility, and Reproductive Surgery concerns. She specializes in Fertility Preservation and Oocyte (Egg) and/or Embryo freezing and Assisted Reproductive Techniques including intra-uterine insemination (IUI), in vitro fertilization (IVF) and Pre-implantation Genetic Diagnosis/Sampling (PGD/PGS).